BACK TO WEBSITE
IT WILL TAKE YOU TO THE EDGE OF THE MIRROR IN HIS WORLD OF IMAGINATION, WHICH APPEARS TO BE A REALISTIC DREAM.
THIS HOTEL IS CHIC AND DISCREET, THE FLOORS SEEM TO UNWIND ALONG THE WALLS, THE COLOR FLOODS FROM THE IMMACULATE ROOMS, AS IS APPEARS ALICE LIVES AMONG YOU WITH THE WHITE RABBIT.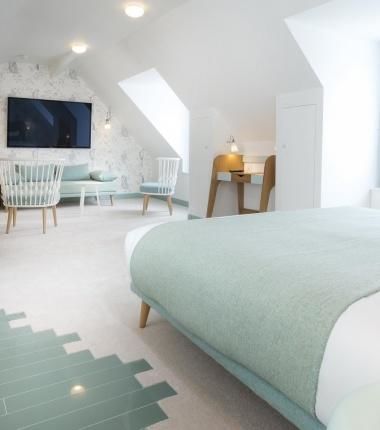 BORN OF COLLABORATION BETWEEN AND ARTIST AND AN ARCHITECT, THIS HOTEL'S COLORS WILL
IMMERSE YOU INTO A DREAM OF ATMOSPHERIC MYSTERY IN THE HISTORIC QUARTER OF PARIS.